Well, it's more than time for a new update. We've been quite busy for some days with no time left for writing. Of course we had a great time as well. We're getting well taken care of in all the cities we're visiting, with a great respons from every audience.
Day 11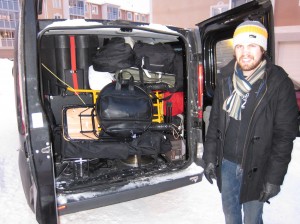 When we woke up this morning Simon and Ante told us about a practicall joke of theirs last night. Some hours past midnight they woke Therés up and told her that we had slept over time and that we were in a hurry heading for the next city. Therés more or less JUMPED out of bed and started packing her things together…discovering after a few minutes, when coming into conciousness, that it was still dark outside! Tonight we played in Therés hometown Luleå. We had an awesome night with a great audience.
Day 10
N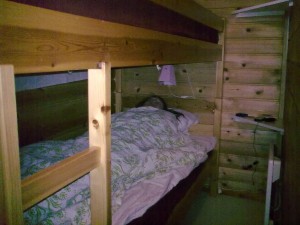 ow we're cooling down in a cosy little cottage in Skellefteå. When we arrived Skellefteå earlier today we discovered a huge article about us in the local newspaper. We also discovered that, very unfortunately, there was going to be an important ice hockey game in the evening, simultaneously with our gig. Still, we had a great time, the gig was wicked and the audience wonderful. It was truly warming to experience that there are people in Skellefteå choosing music prior to ice hockey (even though our drummer is a big fan of ice hockey)!
Day 9
Well, we had a slow day today…or some of us anyway. The guys were sleeping whole day while I was running around Umeå making new connections and meeting some music- and showbizz people.
Day 8
After a few hours in the tour bus we finally arrived the Concert Hall in Umeå. We had a great time and did an awesome gig. Lots of people in the audience, it's so delightful to make concerts like this. After the show we had our compulsory tour party. As you can see on the picture below, we had a fun and crazy night.
This is for real! Simon is sleeping.