We had a fantastic tour. Thanks to everybody who came to see us, it was a joy playing for you!
Tour final
Well, what else can we say, but…what a amazing tour final! Uppsala´s Hijazz was crowded and the spirits were high. Thank you everybody! You can read a review of the concert here.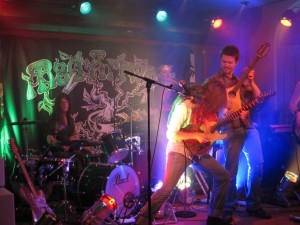 Day 13
Today we drove the 500 kilometers back to Uppsala. The wheather conditions were awful, with a thick layer of ice on the roads. Due to the circumstances the traffic partly stood still and we decided to take an alternative  way around Hudiksvall. So, we drove out in the dark forrest on small, empty roads and could'nt first see nearly anything but mere desolated darkness. Then suddenly, on the other side of the road, Santa Claus where standing there waving to us! I can tell you he scared the shit out uf us, a killer santa in the woods in the middle of nowhere in January…
Day 12
We arrived to Örnsködsvik today after driving 450 kilometers from Luleå. Örnsköldsvik is the city for our last gig in the north of Sweden for this time. Since we've been out on the northern snowy, windy roads for some days by now, today´s journey was a tired one. Besides, to Ante´s annoyance Daniel won today´s football game tournament…again. We had a wonderful evening and, as every night, received a great response from the audience. What a crowd, thank you everybody who came and made this night awesome!
/Gabbi
In our lodge we had a space ship…though somebody claimed it was a shower.